Everything, Everything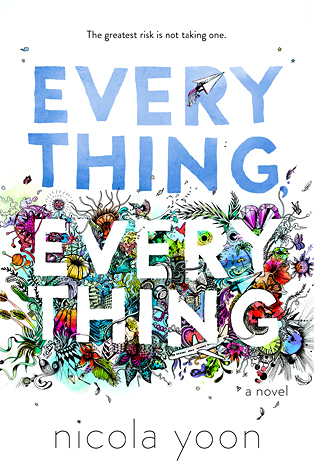 by Nicola Yoon
Pages: 320, hardcover
Publisher: Delacorte books for Young Readers
Source: galley from the publisher
Date Released: September 1st, 2015
Premise:
This innovative, heartfelt debut novel tells the story of a girl who's literally allergic to the outside world. When a new family moves in next door, she begins a complicated romance that challenges everything she's ever known. The narrative unfolds via vignettes, diary entries, texts, charts, lists, illustrations, and more.


My disease is as rare as it is famous. Basically, I'm allergic to the world. I don't leave my house, have not left my house in seventeen years. The only people I ever see are my mom and my nurse, Carla.




But then one day, a moving truck arrives next door. I look out my window, and I see him. He's tall, lean and wearing all black—black T-shirt, black jeans, black sneakers, and a black knit cap that covers his hair completely. He catches me looking and stares at me. I stare right back. His name is Olly.




Maybe we can't predict the future, but we can predict some things. For example, I am certainly going to fall in love with Olly. It's almost certainly going to be a disaster.
I love the way this book is written, in diary entries and short vignettes and the like. It made it so easy to attach myself to Maddie, a POC African American and Japanese (though this is barely touched upon, which is a shame) girl who essentially lives in a bubble. It is a very intimate book, much in the way the Princess Diaries series were.
Reading it on my kindle feels like it doesn't give the book justice. There are illustrations, and charts, and lists, and handwritten diary entries, and such that I'm sure would have looked fantastic in physical form, without having to wait for the lag of my kindle to load the pages. At first I thought,
You betcha sweet ass I'll be buying this book and rereading it over and over for the feels and the proper experience.
But as I read on, something didn't feel right. Maddie's condition was odd. And Ollie ended up helping her endangering her life, which made him the opposite of a sweet sexy love interest. That he would let her go through with her potentially life-threatening plan makes him an unreliable lover, bordering on abusive.
Speaking of abuse, let's discuss her mother, who knew that Maddie was never sick to begin with. Who kept Maddie in this bubble, isolated from the world so that they could be together forever. Who ruined Maddie's immune system as a result of keeping her hidden from the world. I detested that there wasn't more done to chastise her mother, no police involved, no nothing. It was just glossed over as a mother who cared too much. That made me mad, that abuse like that was seen as being overprotective.
This book was a huge disappointment. I wish I could say better things about it, but, morally, I just can't.
1 sad cloud